Bristol plans to restrict outdoor play in parks withdrawn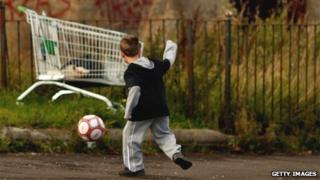 A raft of possible new by-laws for Bristol's open spaces, which would have restricted tree climbing, ball games and skateboarding, have been withdrawn.
More than 40 regulations on many outdoor activities had been up for debate at a full Bristol City Council meeting on Tuesday.
Councillor Mark Wright branded the proposals a "massive over-reaction".
Mayor George Ferguson has now removed the plans from the agenda saying further scrutiny was needed.
He said he remained in favour of by-laws which stop "the most extreme behaviour" but said he did not want joy to be taken out of the parks.
'Whopping £500 fine'
If the full package was approved, it would mean the authority introducing regulations for 207 of its 430 open spaces such as:
Climbing of trees, walls, fences and other structures banned without reasonable excuse
No ball games outside designated areas if it causes danger or annoyance to any other person
Skateboards or other self-propelled vehicles banned if used in a way that causes danger or annoyance to others
The city council is proposing that anyone breaking the by-laws could be removed from the area by a council or police officer, and fined if later convicted.
Mr Wright, Liberal Democrat councillor for the Cabot ward, said they were "a massive over-reaction to issues that are better managed either by education [or] common sense" and would damage relationships between the police and young people.
He said "a whopping £500 fine" could be issued "for such activities as children climbing trees, having a BBQ, playing football in an 'annoying' way, making an 'annoying' noise and putting up a wind/sun break".
'Right balance'
Another councillor, Conservative group leader Peter Abraham, said he personally believed there should be as few by-laws as possible as he was "frightened" about introducing laws that, at the end of the day, were hard to police.
Mr Ferguson has now withdrawn the discussion from the full council agenda.
He said: "I think this should be dealt with through scrutiny by a broad range of councillors who need to get a real understanding of getting the right balance.
"I am absolutely determined that we make our parks more enjoyable for all.
"Some parks are almost out of bounds in places because of the anti-social behaviour of some people and I'm not prepared to turn a blind eye to that so we do need the law on our side."