Traffic calming measures on Barrs Court road could be replaced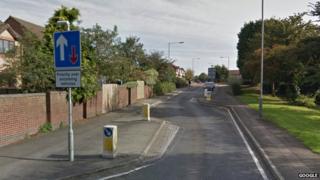 Traffic chicanes on a road on the outskirts of Bristol are to be reviewed after complaints they cause congestion.
The traffic calming measures in Craven Way, Barrs Court have been blamed for tailbacks and road rage by some drivers caught in the queues at rush hour.
They could be replaced with speed tables - a type of speed hump - which campaigners say cause less congestion but still slow down drivers.
A review is expected to be completed by the summer.
Councillor Nick Barrett said: "[People] felt that the chicanes caused unnecessary traffic queues and some instances of road rage during peak periods.
"They felt there was a need to find a better way to control speeds along Craven Way and help pedestrians cross the road, which is why we have asked the council to review the chicanes and see if speed tables might be a safer alternative."
The review, through the council's Kings Forest Area Forum, will be carried out later this year, with a public consultation expected by the summer.