Bristol's Ujima Radio 'to resume broadcasts'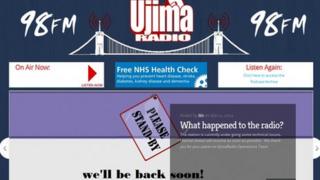 Bristol's mayor has said a community radio station in Bristol, which had power to its studios cut off, could be broadcasting again within days.
Ujima Radio was forced off-air on Tuesday when energy supplies were cut owing to landlords not paying bills.
George Ferguson said the station, which "provides an important service", would be back on air "as soon as possible".
The power was switched off after supplier Utility Warehouse issued a court order for non-payment of bills.
Mr Ferguson said: "I have asked officers to intervene in order to ensure that Ujima Radio is back on air as soon as possible.
'Important service'
"We anticipate that power will be restored some time around the middle of next week.
"The radio station provides an important service to the local community and I want to ensure that this situation is resolved as quickly as possible so that it can resume service once again."
The chair of Ujima Radio, Roger Griffith, said: "We welcome this bold intervention by the mayor to ensure our radio station is back on air."
The radio station is based in a Bristol City Council-owned building in Wilder Street, which is let out to the charity Ceed.
Ceed claimed Ujima's rent did not cover the amount of electricity the station used.