'Crucial' plan to convert first class train carriages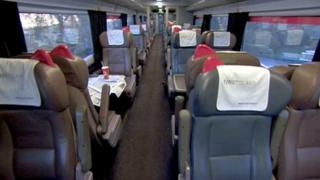 Thousands more standard class seats are to be created on First Great Western (FGW) trains by converting some first class carriages.
FGW first class carriages are never regularly more than 70% full and making the switch is "crucial" to boost network capacity, the company said.
The plan will deliver 3,000 extra standard seats on high-speed services into London during peak times.
The first converted carriages will be finished in June.
The entire FGW fleet, which serves the South West of England and South Wales, will be completed by summer 2015.
'Interim' solution
Managing Director Mark Hopwood said that the only long-term solution to busy services was "more trains".
"New Intercity Express trains are on their way," Mr Hopwood added, but said the conversion of existing carriages was crucial in the interim period.
A standard carriage contains 80 seats - 32 more than a first class carriage.
Currently, FGW's high-speed trains are made up of either six standard and two first class carriages, or five standard and 2.5 first class carriages.
After the conversion there will still be one and a half first class carriages per train.
The work to the standard class seating will be funded by the Department for Transport, while FGW will pay for the refurbishment of the remaining first class carriages.