Nicholas Robinson stabbing: Fiancee in plea to find killer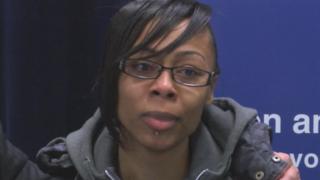 The fiancee of a Bristol teenager who was stabbed to death has pleaded for witnesses to come forward a week after he was killed.
Shannon Pinnock said Nicholas Robinson was "hard on the outside but inside he was soft" during the emotional appeal.
The 19-year-old died after he was attacked leaving Ron Jones House, in Jamaica Street, in Stokes Croft.
CCTV images of a man police want to speak to in connection with the crime have also been released.
Mr Robinson had bought an engagement ring the weekend before he was stabbed.
'Broken'
Miss Pinnock said: "Nicholas is a great person, he's wonderful, caring, loving, he wouldn't hurt a fly. He might be hard on the outside but inside he was soft.
"I don't know why anyone would want to do this to him. I miss him so much. I'm actually broken.
"If anyone knows what has happened to him, just please come forward and just let us know, any information you've got, anything that could help us to find out who has done this."
Mr Robinson's mother, Angela Mullings, added: "Please contact the police, I am begging you. I'm begging you please... because Nicholas doesn't deserve this."
The trainee bricklayer was stabbed in a communal stairwell and managed to ring the police before collapsing in the street.
Det Ch Insp Andy Bevan, of Avon and Somerset Police, said: "Despite the fantastic efforts of the paramedics... he did die where he collapsed, which is just absolutely tragic.
"I firmly believe someone in the local community knows who is responsible for Nicholas' murder."
Seven people have been arrested in connection with the stabbing. Five have been released on bail and two have been released without charge.