Bristol Rovers supermarket plans: Impact 'not considered'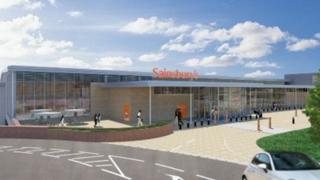 A report into the impact of a new supermarket in Bristol was not properly considered by council planners, a judicial review has heard.
Bristol Rovers Football Club wants to sell its Memorial Stadium to Sainsbury's to fund a £40m new ground.
But campaigners have argued in court the council misrepresented a report that outlined a £7.7m impact on nearby shops by 2017.
Bristol City Council said figures were "clear to see".
'Bleak effect'
The hearing, held in front of a High Court judge, concerned whether the council had followed correct process in granting the supermarket planning permission.
The council is obligated to take into account the impact on the "vitality and viability" of the town centre and Bristol City Council commissioned independent company GVA to carry out a retail assessment.
Campaigners TRASHorfield claim the report revealed a "bleak effect" on Gloucester Road town centre of which councillors were not given the full picture.
The report stated: "In our view existing stores across the whole of the Gloucester Road Town Centre could lose a combined total of £7.7m of retail expenditure which would reduce the turnover of the centre by 12%.
"The majority of this impact will fall on the convenience goods sector which would lose up to 19% of its 2017 turnover levels."
But Daniel Kolinsky, representing TRASHorfield, said the key concerns and caveats within the GVA report were not reflected.
"The officer [for Bristol City Council] says that the health of Gloucester Road town centre is good and will continue to be good," he said.
"Where do GVA say that? The answer I say, is nowhere."
He also described a loss of footfall and "linked trips" on Gloucester Road if the supermarket was built.
'Crystal clear'
However, James Findlay, representing Bristol City Council, said the £7.7m figure was clearly referenced and had "anyone wanted to look at it, they could have obtained" these details.
He went on to say the GVA report author had attended a planning committee meeting and "if any councillor was burning to ask the officer a question, he could have done so."
Mr Findlay added: "GVAs concerns for Gloucester road - lower growth, possible store closures and decreased footfall - are all properly and clearly drawn to the reader's attention".
A loss of market share "comes across crystal clear," he said.
Saira Kabir Sheikh, representing Bristol Rovers, said the planning officer, armed with "every report, letter and email" written on the subject, had rightly decided what should go into the report.
"He concluded that on balance it [Sainsbury's] would not result in significant harm," she said.
She also highlighted that the planning officer had weighed-up the "wider benefits" her clients believed the Sainsbury's and a new football stadium would bring to the area - including jobs, affordable housing and sporting facilities.
Justice Hickinbottom told the court he would announce his decision next Thursday.