'Incredibly rare' orange lobster rehomed in Bristol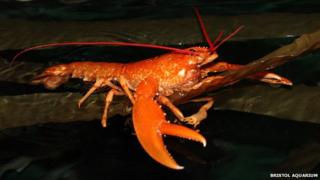 An "incredibly rare" orange-coloured lobster caught by Scottish fishermen has been rehomed for permanent display.
The crustacean was hauled in near the isle of Coll in January by fishermen who contacted marine experts in Edinburgh with their unusual find.
Cooked lobsters are commonly associated with the colour but experts reckon only one in ten million are orange when alive.
Bristol Aquarium has taken the lobster to be used in its visitor displays.
David Waines, from the aquarium, said: "According to the University of Maine's Lobster Institute, this type of colour mutation is extremely rare.
"In fact, they estimate the odds of finding an orange-coloured lobster is around one in 10 million.
"No one is entirely sure why these sort of colour changes happen in individual crustaceans. It may be some kind of genetic mutation or a reaction to some kind of outside stimulus.
"We're not even certain if the colouration will stay the same when the lobster eventually moults, I guess we will just have to wait and see what happens."