Forest of Dean MP calls for third River Severn crossing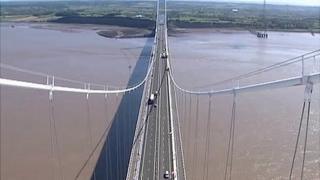 Urgent research should be carried out into the possibility of another crossing over the River Severn in Gloucestershire, an MP has said.
A new crossing would ease congestion and strengthen links between the Forest of Dean and Gloucester, Conservative Mark Harper told a Parliament debate.
He said it could be paid for through taxation or even by tolls at the existing two Severn bridges.
The A40 at Over is the main route used between the Forest and Gloucester.
"I've asked the Highways Agency to carry out some option appraisal work, to look at what options there might be for a further crossing between Over and the old Severn Bridge," said Mr Harper.
He was speaking at a special debate at Westminster Hall about the future of the Severn bridges.
The Severn Bridge and Second Severn Crossing, both near Bristol, carry some 80,000 vehicles every day between England and Wales on the M48 and M4 respectively.
'Thinly-populated part'
Motorists have to pay to use both bridges and politicians on opposite sides of the water are reportedly working on a proposal to retain the tolls when the bridges pass into public ownership in 2018.
Mr Harper said ideally a third new crossing further upstream would be toll-free.
Welsh MPs have criticised Mr Harper's request, believing a third crossing could have a negative impact on the two Severn bridges.
Paul Flynn, Labour MP for Newport West, suggested a bridge from "one thinly-populated part of England to another thinly-populated part of England" could place a "financial burden" on people living in South Wales, who pay tolls on the main crossing.
Labour's Nia Griffith, MP for Llanelli, also said she preferred the idea of a third crossing being funded by government tax rather than tolls "penalising one particular group of users".