Samuel Starr: Computer 'failure' led to delayed treatment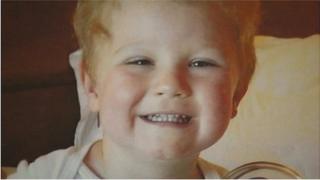 A boy with heart problems died after a computer system "failed" to schedule him for a scan, leading to a delay in his treatment, a coroner has said.
Samuel Starr, three, was born with a congenital heart defect and underwent surgery at Bristol Royal Hospital for Children not long after his birth.
He made a good recovery and was scheduled for follow-up appointments at Bath's Royal United Hospital (RUH).
Avon Coroner Maria Voisin ruled delays in check-ups "disadvantaged" his heart.
Urgent surgery needed
"He required surgery and regular check-ups at outpatients to manage his conditions," said Ms Voisin.
"Due to the failure of the hospital outpatients booking system, there was a five-month delay in Samuel being seen and receiving treatment.
"Samuel's heart was disadvantaged and he died following urgent surgery."
When Samuel, of Frome, Somerset, finally had the appointment, doctors found he needed open heart surgery.
During the procedure, he suffered a stroke.
Further complications followed and he died in the arms of his parents, Catherine Holley and Paul Starr a month later.
Ms Holley wept as she recalled the moment she kissed her son goodbye
As we read Samuel his favourite stories, he died in our arms," she said.
A statement from the RUH said: "We offer our sincere condolences to the family of Samuel, and are very sorry for the delay in him being seen in the specialist outpatient clinic.
"We have already taken action to correct any issues relating to the booking of outpatient appointments."
The inquest recorded a narrative conclusion.