Bristol Rovers supermarket plans: Petition to No 10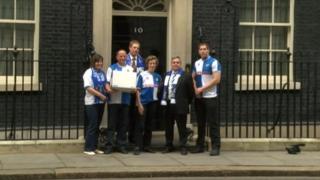 A petition in support of Bristol Rovers' plans to sell their football ground to Sainsbury's has been handed in to Downing Street.
More than 13,000 people have signed the petition which was set up by Conservative Bristol North West MP Charlotte Leslie.
Campaign group TRASHorfield has criticised it saying it has been signed by people who do not live locally.
Approval for the supermarket will be subject to a judicial review next week.
A judge is due to consider whether Bristol City Council looked at the effect of the new supermarket on other retailers' properly.
'Public money'
Ms Leslie said the judicial review would come at great cost, despite the unlikelihood plans for the supermarket would be stopped.
"The only difference will be that it is delayed and because all of the public money and the Rovers money which was going to go into the stadium has been spent fighting judicial reviews for the Sainsbury's, you just get a lot less of a stadium, which is not a good trade-off," she said.
She also dismissed criticism that support for the plans had come from outside Bristol.
TRASHorfield, which was granted the judicial review, has said that while it supports a new stadium, this should not come at the expense of the local community.
It claims the supermarket would bring "traffic chaos", more pollution and would harm local businesses.
Diana Scrafton, a TRASHorfield director, said: "The petition we put together, which had 6,500 signatures...was done within the local community.
"This one was raised all around the country and I don't think that is appropriate. It is a concern for people in the locality."