Bristol Downs ranger retirement raises concerns over future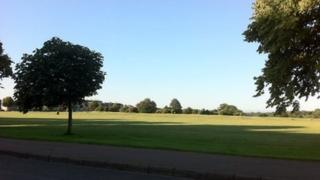 The loss of a ranger responsible for the Downs in Bristol could lead to a drop in the "quality of maintenance" of the open space, campaigners have said.
There has been a ranger on Clifton and Durdham Downs for 150 years, but the current ranger retires on 26 March.
Friends of the Downs and Avon Gorge said they were worried there would not be a direct replacement and the issue would "have to be addressed".
Bristol City Council said many services were being restructured.
The authority added that it "could not be specific" at this stage as to what that meant.
Chair of Friends of the Downs and Avon Gorge (FODAG) Jack Penrose said: "The area is unique, it's not just the envy of cities in Great Britain but throughout Europe.
"We have a long-established agreement with the council that any of our actions requiring insurance - such as liability - have to go through the Downs ranger.
"Our concern is, if there is no Downs ranger but someone in a parks office somewhere else - how can we expect the quality of maintenance the current ranger has achieved?"
'Work differently'
Bristol City Council has to lose 800 jobs across the authority and the possible scrapping of this post is part of its general restructuring plans.
A council spokeswoman said: "Across the council a number of services are being restructured.
"These are currently being consulted on by council staff, and until that process has been completed it is not possible to say how specific areas of a service will be delivered.
"What we do know is that the council will work differently, more efficiently and it will continue to provide good services which will serve Bristol well."
Clifton and Durdham Downs are owned by the Downs Committee, which is made up of the city council which manages it and the Society of Merchant Venturers which is responsible for the stewardship.
An 1861 Act had declared the area should "remain a place for the recreation of the citizens of Bristol".