Shrien Dewani extradited to South Africa 'within 28 days'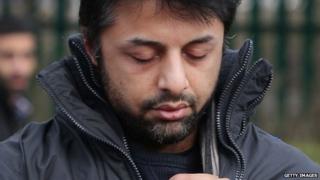 A man accused of arranging the murder of his wife on their honeymoon has lost his latest appeal against extradition.
Shrien Dewani, 33, is fighting a return to South Africa to face the charges, which he denies, over the death of his wife Anni in November 2010.
A 28-day period during which he must now be extradited has been triggered.
Mr Dewani's legal team had wanted the appeal to be heard in the highest court in the land - the Supreme Court - but this was refused by a panel of judges.
The businessman from Bristol is being compulsorily detained under the Mental Health Act after being diagnosed as suffering from severe depression and post-traumatic stress disorder.
Mr Dewani's lawyer told Lord Chief Justice Lord Thomas and two other judges at the High Court in London that his "underlying medical condition" may have become chronic, making it "untreatable".
Mark Summers argued more time was needed to fight the ruling, as his health was making him ineligible for extradition.
But, in refusing the application, Lord Thomas said: "The provisions of the Extradition Act are designed to ensure extradition is a speedy process.
"I therefore pronounce [that] any period that is applicable under the relevant legislation will run from today."
Outside the court, Anni's father, Vinod Hindocha, said the family were happy with the decision.
He said the legal process had been "torture" for his family, adding: "I really don't know what happened to my daughter. We need answers. We hope to get justice."
In January, the High Court ruled it would not be "unjust and oppressive" to extradite Mr Dewani providing that assurances were received from South Africa about the length of time he would be kept in the country without trial.
Those assurances have been given.
Mr Dewani is suspected of ordering the killing of his wife, a 28-year-old Swedish national.
The charge dates back to November 2010 when the pair were held at gunpoint while driving through Cape Town in a taxi.
Mr Dewani escaped unharmed but his wife's body was found the following day.
Prosecutors allege South African national Xolile Mngeni, who was later convicted of premeditated murder and jailed for life, had been hired by Mr Dewani to kill his wife.
The legal battle to keep Mr Dewani in England until he is well enough to travel has been ongoing since 2011.