More Bristol 20mph speed limit zones identified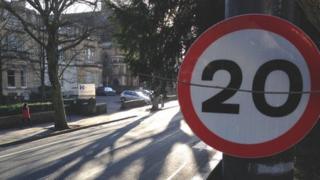 More 20mph traffic zones have been identified in Bristol.
Bristol City Council said the "majority of roads" in Filwood, Knowle, Brislington and Ashton Vale would be affected by the traffic order.
A council spokesman said the 20mph limits are being introduced to "reduce the risk and severity of collision".
Pilot zones were set up in Bedminster and east Bristol three years ago but by last August police had not issued any 20mph speeding fines in those areas.
Last month, many roads in the centre of Bristol and in Clifton, Cotham, Bishopston and Redland had the speed limit reduced from 30mph to 20mph.
Avon and Somerset Police said then it might be forced to use safety camera vans to enforce the limits.
City mayor George Ferguson said the pilots showed "reduced speed limits can and do improve pedestrian and cycle safety".
The proposals are part of a city-wide roll-out, due to be completed by March next year.