Tyntesfield tree felled for Matthew tall ship mast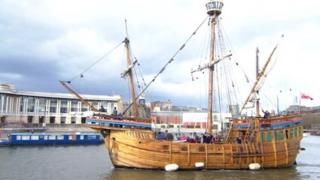 A fir tree has been chopped down by the National Trust to be turned into a new mast for a replica tall ship.
The 90ft (27.4m) tall Douglas fir tree at Tyntesfield in North Somerset was indentified as being "ideal" for The Matthew which is docked in Bristol.
Once the trunk has been cleaned up it will be left to season before being kept as a spare and fitted when needed.
Explorer John Cabot sailed The Matthew away from Bristol in 1497 and on to discover parts of North America.
Darren Mait, orchard project manager at Tyntesfield, said they were happy to be part of "such an interesting project".
He added: "Because it is part of a group of Douglas firs in the Farm Plantation woodland which we will be thinning as part of the woodland management plan, we can certainly afford to donate it to the ship."
When ready the mast will only have to travel six miles (9.6km) to where the replica Matthew is moored alongside the M Shed on Princes Wharf in Bristol.
It is made from oak frames, with larch below the waterline and Douglas fir above, and first sailed in 1996.
Master of the ship Rick Wakeham said: "The mast we have on The Matthew is fine just now but we are very aware that it is 18 years old now and we're always a bit nervous in case the shipwright finds a crack or a soft patch.
"You can't just pick up a suitable Douglas fir off the shelf these days but this way we know we have a replacement on standby and we can prepare it properly, making sure it is thoroughly oiled and ready to fit when we need to."
Managed by the National Trust, Tyntesfield is a Victorian Gothic Revival house with gardens and parkland in Wraxall.