Ross and Clare Simons: Tandem sentence petition handed in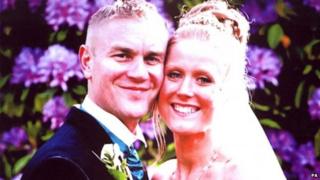 The family of a Bristol couple, killed in a hit and run crash by a disqualified driver, have handed in a petition to 10 Downing Street.
Ross and Clare Simons died after their tandem bicycle was hit by Nicholas Lovell, who had four previous convictions for dangerous driving.
Their family want tougher sentences for disqualified drivers who offend again.
Lovell, who was jailed for 10 years and six months in May, was first disqualified from driving in 1999.
The court heard he had been convicted on 11 separate occasions of driving while disqualified.
He was being pursued by police when he hit the couple in Hanham in January 2013.
He received the maximum sentence for the offence.
More than 15,000 people have now signed the petition 'Justice for Ross and Clare Simons'.
Mr Simons' sister, Kelly Woodruff, said: "You are living a nightmare every day. Everyone says that time heals, but I am going to carry this until the day I die.
"This is never going to leave me and he is going to come out of prison in four years time. He has a release date already for 2018 - he's going to be out and he's not going to care while we've been given a life sentence and we don't want it."
Mr Simons' father, Edwin, said there should be a more robust system in place for "these prolific law breakers" and called for the police and politicians to have a "way of pulling them out of the system and getting them off the streets".