RUH booking system 'may have contributed to boy's death'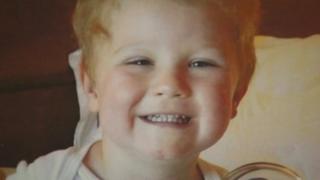 Delays caused by a computerised appointment booking system could have contributed to the death of a boy with heart problems, a report has said.
Samuel Starr, aged three, was seen by a cardiac specialist at Bath's Royal United Hospital (RUH) in 2010.
But a follow-up appointment did not then take place for 20 months.
The report said the situation was "possibly modifiable if earlier surgery" had taken place but death may have happened even without the delay.
'Overdue appointments'
"We have offered our sincere condolences to the family of Samuel Starr following his sad death," a hospital spokesman said.
"The coroner's inquest will be held very soon and we hope that this will provide both Samuel's family and everyone involved in his care with a clearer indication of the circumstances surrounding his death," he added.
The problems occurred after a new computer-based patient booking system was introduced at the RUH in 2011.
According to a freedom of information request, it caused 63 overdue appointments - with some taking nearly two years to discover.
One of these involved Samuel who lived with his parents, Paul and Catherine, near Frome, Somerset.
By the time he had his operation at Bristol Children's Hospital in August 2012, there were complications and his family were told he would need further surgery.
But he died on 6 September after suffering a stroke and a cardiac arrest a few days earlier.
The BBC has learned a key factor in these delays was the introduction of a new IT system that was being installed to deal with appointments at the hospital.
Minutes of board meetings in RUH a year before Samuel's death show the hospital was fully aware of the problems with their new computer system.
They reveal "there were significant issues with... data that had not been migrated which affected... long-term follow-up appointments".
In a review of Samuel's death, which took place in November 2012 but the details of which have only just been made public, Bristol Children's Hospital concluded that these delays might have played a part.
It said: "Death was felt to be possibly modifiable if earlier surgery before cardiac function deteriorated."
But the report also indicated Samuel's death could have happened at any time.