Winter Olympics: Jenny Jones to get open-top bus tour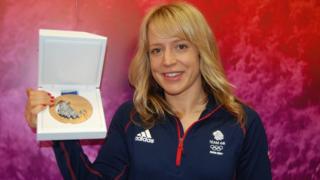 Winter Olympic bronze medallist Jenny Jones is to have a celebratory homecoming next month.
The 33-year-old snowboarder from Downend near Bristol won Great Britain's first ever Olympic medal on snow, in the slopestyle event in Sochi.
The celebration, including an open-top bus tour in South Gloucestershire and a civic reception at City Hall in Bristol, will take place on 3 March.
Jones said it was "very lovely" the homecoming had been organised.
She said: "I'm very proud to be from Bristol.
"I just hope that people will want to come out and say hello."
Chairman of South Gloucestershire Council Ian Boulton said: "This is something special for Downend, South Gloucestershire and the Greater Bristol area and we want to make it a day that Jenny, her family and her guests will remember.
"Everyone in Downend is extremely proud to have one of their own to have achieved this.
"It really is something special."