Aquarium optimistic over washed ashore turtle's recovery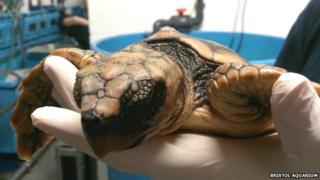 A baby turtle washed ashore during the recent storms is "extremely fortunate" to be alive, experts have said.
The stricken loggerhead turtle was found by a member of the public at Freshwater West in Pembrokeshire.
He is now recovering in a special quarantine tank at Bristol Aquarium, which says "he was very poorly indeed" when he arrived.
Nicknamed 'Stormy', the turtle is 17cms (6.7in) long and is thought to have begun life in the Caribbean or Mexico.
"It's extremely fortunate he was found alive as loggerheads simply would not be able to survive for any length of time in British waters," said Bristol Aquarium's David Waines.
"They are prone to hypothermia and are vulnerable to getting caught in fishing nets and other marine flotsam and jetsam."
Stormy, who is thought to be about three-years-old, is being treated with a course of antibiotics, as well as being tube fed. The aquarium is "cautiously optimistic" he will make a full recovery.
The man who found Stormy last Thursday was looking at a fossilised forest which had been exposed by the rough seas.
He contacted a local animal rescue group which gave the turtle some treatment before transporting him to Bristol on Friday.
The aquarium said Mr Waines had previously rehabilitated and released seven rescued sea turtles back into the wild.
Young loggerheads migrate with the warmer waters of the Atlantic circulating in a current of water known as the North Atlantic Gyre which is rich in their favourite food of jellyfish and squid.
But, it is thought, on this occasion a severe storm pushed the baby turtle further and further north.