On-call doctor gets 100 parking fines in 10 years responding to emergencies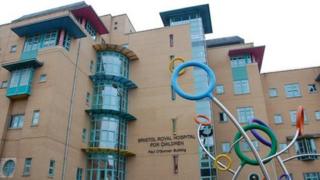 A Bristol doctor given nearly 100 parking fines over 10 years while on emergency callouts has called for a relaxation in NHS parking charges.
Mike Carter, a consultant neurosurgeon for North Bristol NHS Trust, has been fined while dealing with critically ill children at another trust's hospitals.
Mr Carter wants NHS managers to ease the rules on hospital parking charges.
University Hospitals Bristol Trust said that on-call staff could access a car park.
But Mr Carter said there were not always enough spare spaces.
Parking meters
He said that "NHS corporate well-being" was being seen as more important than patients and staff.
Mr Carter pays a fixed sum from his salary to park at the North Bristol NHS Trust hospitals Frenchay and Southmead.
But because the Bristol Royal Infirmary and the Children's Hospital are run by a separate trust - University Hospitals Bristol NHS Foundation Trust - no allowances are made for his attendance there.
He said the trust often insisted that he uses the pay parking spaces on site, meters on local roads or a nearby car park.
"The problem is, kids with brain haemorrhages and other neurosurgical issues generally can't cope with the sort of delays and uncertainties which that kind of provision entails," he wrote in a letter to The Times newspaper.
He said that on one occasion he was dealing with an emergency at one hospital when he was alerted to another at a different hospital, but his car had been clamped while answering the first call.
He was then asked to pay £40 - which he did not have - to unlock it.
James Rimmer, chief operating officer for University Hospitals Bristol NHS Foundation Trust, said that "like all facilities in the centre of Bristol, parking is a challenge".
He said: "Of course for some staff, for example those who are on call or those with caring responsibilities, it is difficult to use other forms of transport and, for them, we have a system that allocates car parking spaces on the basis of need.
"Unfortunately we cannot allocate spaces for staff from neighbouring trusts but there are several public car parks close at hand. Staff from other trusts who cover on call here at our hospitals are able to park in our on call car park."