Bristol City Council agrees to help fund £91m Arena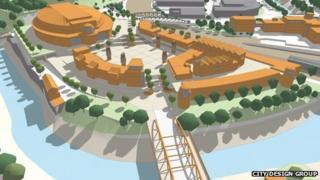 Plans to build a £91m entertainment arena in Bristol have won the backing of Bristol City Council.
Councillors will add £38m towards the complex with the West of England Local Enterprise Partnership putting in £53m.
They also voted to back Mayor George Ferguson's budget cuts of £83m but only after Labour's condition that £1.3m be put back into threatened services.
Council tax bills will rise by 2% and more than 800 posts are expected to go over the next three years.
'Concern to Bristolians'
Steve Crawshaw, from Unison, said they were "dismayed by the scale of job losses".
"But we recognise that the council is doing its best to mitigate the job losses through voluntary processes," he said.
Mr Crawshaw added: "We welcome some of the amendments including the retention of sports development, parks maintenance contracts and especially the children's centres budgets.
"But we also recognise that there will inevitably be cuts to services and this should be of concern to Bristolians."
'City milestone'
Independent Mayor George Ferguson said it was one of the "most challenging budgets the city has seen for decades".
Speaking about the arena, which he said was one of his "top priorities", he said work could now begin to "appoint an operator to run the planned 12,000-capacity venue".
Mr Ferguson said: "This is a real milestone for the city region following many disappointments in the past.
"Bristol is the only major city in the UK without a facility of this scale and with the funding package now in place we can at last move forward to make an arena for Bristol a reality."
The venue will be located in the heart of the Temple Quarter Enterprise Zone and is expected to open in 2017.
Speaking about the planned budget cuts, Labour's leader Helen Holland said it was an "improved budget".
She said: "It isn't what we want but it's improved and because of our intervention there won't be cuts at children's centres.
"There won't be cuts in grounds maintenance, sports development will still be there, pest control will still be there, so I think we've actually made improvements."
Council tax bills will increase by an average of 50p-a-week for a Band D property.