Lizzy Yarnold's parents back gold post box campaign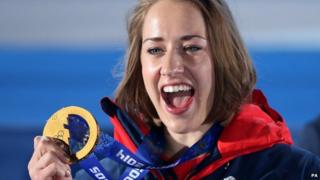 The parents of Olympic champion Lizzy Yarnold have backed a campaign to get a gold post box in their home town to recognise their daughter's achievement.
Her mother Judith said they were "really disappointed" the Royal Mail would not be honouring medal winners from the Sochi 2014 Winter Olympics.
Yarnold, 25, won Great Britain's first gold medal on Friday in the women's skeleton.
Royal Mail said it would not create any gold post boxes for the Winter Games.
Yarnold grew up in a farming family in West Kingsdown, near Sevenoaks in Kent.
Yarnold has tweeted her thanks to the Paint It Gold For Lizzy campaign.
Her mother, Judith, said she had not realised the gold post boxes were only for the 2012 London Olympics.
'Lasting memento'
"We were really disappointed when we realised it wasn't going to carry on," she said.
"We feel it's a lasting memento - that people will see it and be proud of what she has achieved.
"Whichever Olympics you take part in, whether it be the summer or the winter, our athletes have put years in to the training and I had just assumed that they would all be recognised in this rather wonderful way."
Conservative MP for Sevenoaks, Michael Fallon, said he thought the Royal Mail was making the "wrong decision" over the golden post box.
"I hope this campaign now will show Royal Mail they do need to reconsider," he said.
"There's huge public support for Lizzy Yarnold and to recognise her enormous achievement."
Yarnold's father, Clive, said the family were still coming to terms with their daughter being a gold medallist.
"It's just mad - absolutely mad," he said.
Mrs Yarnold said the winning performance was the proudest moment of their lives.
"Not just because it was our daughter but for our country - to be out there cheering her on was fantastic," she said.
Royal Mail said London 2012 was a unique occasion when the UK hosted the Games.
"Because of our status as the host nation, Royal Mail chose to mark the achievement of our athletes through gold post boxes as well as stamps," it said in a statement.
"For the winter Olympics 2014 Royal Mail will not be creating gold post boxes but we are exploring other ways of marking the achievements of our athletes, including creating a special postmark."