Batook Pandya: Bristol anti-racism leader of SARI dies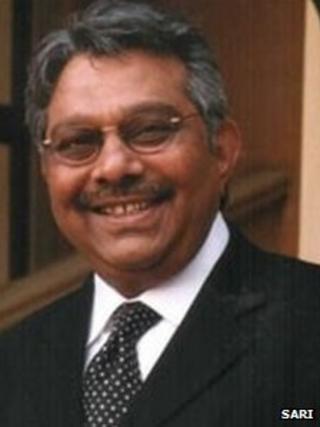 A leading campaigner against racial intolerance and discrimination in Bristol has died.
Batook Pandya, director of Stand Against Racism and Inequality (SARI), died on Sunday.
Mr Pandya had been closely involved with SARI since it was established in the city in 1988.
He came to Britain from Kenya in 1963 when he was 17. Before he took on the job at SARI, Mr Pandya worked as an engineer for British Aerospace.
A SARI spokesman said Mr Pandya had "passed away peacefully in his sleep" on Sunday morning.
He said: "Batook was a much-loved figure in the community with a character larger than life, and this will leave a huge hole for Bristol and all those who knew and loved him.
"Batook's tireless campaign to make a difference and unstoppable passion and dedication for fighting for equality for all has been his life's work.
"This has seen SARI grow from strength-to-strength and touched so many lives. He leaves behind a great legacy."
Mr Pandya left behind a wife, daughter and grandson. In a statement they said he would "be sorely missed by us all".
They said: "We cannot imagine life without him now he has left the room. Bristol won't be the same but we intend to do all we can to continue with his legacy."
'Sudden death'
Lots of tributes have been paid to Mr Pandya, many of them on Twitter.
The Bristol Somali Forum tweeted: "RIP Batook he has done so much to fight racism and inequality in #Bristol."
Chief Constable of Avon and Somerset Police Nick Gargan posted on Twitter: "Utter shock to hear of the sudden death, yesterday, of Batook Pandya: great champion of racial tolerance and true friend of @ASPolice".
Police and Crime Commissioner Sue Mountstevens also tweeted: "We are all saddened to hear SARI's Batook Pandya MBE has died. He achieved so much & worked tirelessly".
'Tireless campaigner'
Bristol's ceremonial Lord Mayor, Faruk Choudhury said: "Batook Pandya MBE was one of the greatest men of our city and is a huge loss for the city and especially the ethnic minorities. He was genuinely a star in our community."
The city's elected mayor, George Ferguson, said he had the "highest regard" for Mr Pandya's "passion and commitment to community welfare and fairness in Bristol".
The mayor added: "He was a tireless campaigner whom I had the privilege of knowing both personally and professionally.
"In both of those capacities he had my utmost respect. This is a shock to me and a sad day for Bristol, a city which is undoubtedly a better place for his work."
Mr Pandya was awarded an MBE and also an honorary doctorate by the University of Bristol for his work across communities in the city.
SARI is run by and for victims of racial harassment or attack and describes itself as "an autonomous user-led charity".
The charity now has 20 members of staff and deals with almost 400 cases each year.