Olympic star Jenny Jones 'should have Downend bronze postbox'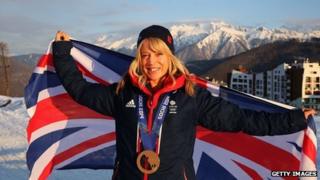 Winter Olympic medallist Jenny Jones should have a postbox painted bronze in her honour, her local council has said.
The 33-year-old snowboarder from Downend won bronze at Sochi in the slopestyle event on Sunday.
South Gloucestershire Council is to write to Royal Mail asking for a postbox to be painted in the style of the gold postboxes from London 2012.
And George Ferguson, mayor of nearby Bristol, wants to turn Park Street into a ski slope to mark her homecoming.
In 2012 Royal Mail painted more than 100 postboxes gold - one each in the hometown of every Team GB and ParalympicsGB gold medallist at the London Olympic Games and Paralympic Games.
A South Gloucestershire Council spokesman said Jones would be invited to a civic event to mark her "fantastic achievement".
But chairman of the council Ian Boulton earlier this week accused mayor Mr Ferguson for trying to "bask in reflective glory".
Mr Ferguson had suggested the city should do something "very unusual and very Bristol" to mark Jones' success in Russia.
He claimed on Twitter it was acceptable for the city to host the event as "Bristol has expanded into South Glos and the rest of the world thinks of #Downend as part of #GreaterBristol!".
In response Mr Boulton questioned if such a claim meant the mayor had "strayed into unknown and dangerous territory".