Honeycomb book hive celebrates library's 400th anniversary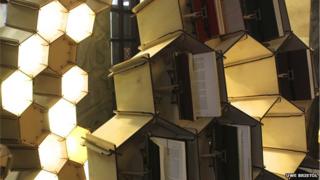 Hundreds of old books have been turned into an animatronic honeycomb hive sculpture which will interact with lenders at Bristol Central Library.
The hive is made up of hexagonal frames with movement sensors that react as people walk past, making the pages of the books rustle and creak.
The display is also designed to allow visitors to smell the old books as they open and close in the hive.
It has been built to celebrate the 400th anniversary of the library.
It has been built by artists, engineers and designers from the University of the West of England with animatronics company Rusty Squid.
It is made from 400 hardback books no longer in circulation which were donated by the central library.
Each laser-cut plywood component was slotted together without glue or fixings.
David McGoran, director of Rusty Squid, said as the hive grew there were a few surprises.
"We did not expect the creaking sound made by the mechanisms that control the book movement and the audio experience is, as it turns out, as exciting as the movement," he said.
Andrew Cox, from Bristol Central Library, said: "We embrace the digital but we all still love books and the book hive is a wonderful blend of art and engineering, reminding us of the intrinsic beauty and love affair we have with books as tangible items."