Jenny Jones Olympic bronze: Mayor 'basking in Sochi glory' claim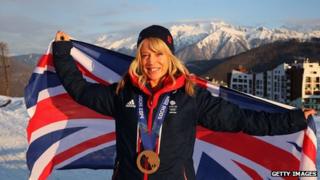 Bristol's mayor is trying to "bask in reflective glory" by proposing to hold Olympic snowboarding slopestyle medallist Jenny Jones' homecoming in the city, a council leader has said.
George Ferguson has suggested turning a road into a ski slope for the return of Jones, who won bronze in Sochi.
South Gloucestershire Council chairman Ian Boulton said she was from Downend and the mayor had strayed into "dangerous territory" with the plan.
Bristol's council declined to comment.
Mr Ferguson said the city should do something "very unusual and very Bristol" to mark Jones' success in Russia on Sunday.
Her bronze medal performance made her the first Briton to win a medal on snow at a Winter Olympics.
'Very proud'
Proposals to turn Park Street, one of the hills close to the city centre, into a ski slope or hold a snowboarding event at the nearby Brandon Hill park are being considered for the homecoming.
However, the mayor said he would seek sponsorship to pay for any celebrations as it would "not be appropriate to dig into the city's coffers".
He claimed on Twitter that it was acceptable for the city to host the event as "Bristol has expanded into South Glos and the rest of the world thinks of #Downend as part of #GreaterBristol!".
Responding on the microblogging site, Mr Boulton questioned if such a claim meant the mayor had "strayed into unknown & dangerous territory".
"I do get a little suspicious of politicians who try to bask in reflective glory of other people's achievements," he said.
He added that he was "very proud of Jenny's achievements".
"It's a wonderful achievement for Downend and for South Gloucestershire.
"We do need to find out what Jenny and her family would like to do and if there are many people in our region who want to get behind that, I think we should be supporting that 100%."
A Bristol City Council spokesman said the authority was aware of Mr Boulton's comments but did not want to comment further.