Bristol RPZ: Two new zones planned for summer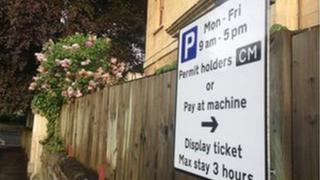 Two new residents' parking zones (RPZ) in Bristol have been approved by the council.
Mayor George Ferguson wants to implement a blanket rollout of parking zones within the next 18 months to halt commuter parking in city streets..
The latest zones will be in Cliftonwood & Hotwells and Cotham North and will come into operation in the summer.
Under the scheme, residents have to pay £48 to park outside their houses for one car and £96 for a second permit.
'Lack of consultation'
The plan has come in for criticism from some residents' groups and businesses about a lack of consultation.
Twelve other zones will be rolled out over the coming year, Bristol mayor George Ferguson said.
"As the schemes in the individual areas begin to roll out, it will result in displacement to other areas," said Mr Ferguson.
"It is vital that these knock-on effects are minimised, with a tightly managed programme that will solve the problem once and for all."
At present, parking zones operate in Kingsdown, Cotham and central areas of the city.