Bristol commuter route to be made one-way by council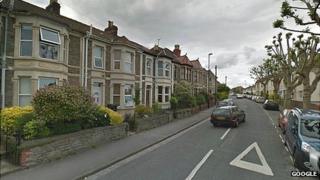 A narrow residential road in Bristol used by commuters is to be made one-way as an experiment.
Sections of Beaufort Road in St George are to be closed to traffic heading westbound into the city from March.
Campaigner Phyll McVeigh said "closing off a main commuter route" into the city would add to congestion.
Bristol City Council stressed it was a trial and changes could be made to the proposals to meet local residents' needs.
Although residents admit the road is used as a cut through, they claim it is only a problem during rush hours.
'Road too narrow'
"They're not solving any of the problems that exist there by doing this, they're just making the whole area 10 times worse" said Ms McVeigh, from the St George Neighbourhood Access Group.
"If drivers went at the right speed and looked out for pedestrians then we wouldn't have half the problems."
Labour ward councillor Ron Stone, said the problem was the road was too narrow for the volume of traffic.
"This is an experimental order and there is the ability to vary anything within that order to match anything that we find is a difficulty for local residents," he said.
The trial will run for a minimum of six months up to 18 months, the council said.
Residents also campaigned against a similar scheme on near-by Crew's Hole Road.
Although the proposals are "not currently being progressed" the council said they have "not been scrapped altogether" and are looking at all possible options.
It added that a range of draft proposals are currently being worked on and will be published at the end of March or the beginning of April.