Bristol police hunt for crocodile under bridge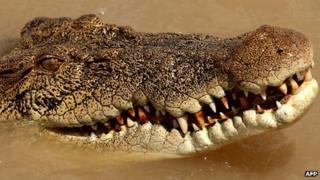 Police were called out to search for a 6ft (1.8m) crocodile reportedly seen on the loose in Bristol.
Avon and Somerset Police Chief Constable Nick Gargan said on Twitter that a bus driver had alerted police about the animal earlier.
"One of our officers was flagged down by a bus driver today, claiming to have seen a 6ft crocodile... We can't find it," he said.
A police spokesman confirmed officers had been sent to look for the creature.
The force did not reveal details of the extent of the search - or indicate how seriously they were taking the sighting.
"We were called at 10:28am on Monday, February 3, to reports of a crocodile sighted on Bedminster Bridge," the spokesman said.
"We carried out a search of the area but found no trace of the reptile."
Crocodiles tend to congregate in the slow-moving rivers and swamps of Africa, Asia, Australia and the Americas, according to BBC Nature.
A previous sighting of a crocodile in British waters - reported in the English Channel - turned out to be a piece of wood.