Stowey Quarry asbestos dump: No legal challenge planned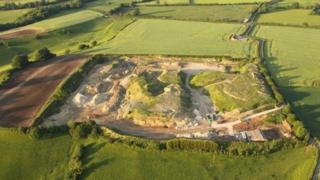 Campaigners say they are pleased there has been no legal challenge against a decision preventing the dumping of asbestos waste at a site in Somerset.
In November a planning inspector ruled proposals to dispose of materials at Stowey Quarry in Chew Magna near Bristol could not go ahead.
The time frame for any further legal challenge has now expired.
Stowey Sutton Action Group said it was "relieved" asbestos waste disposal would now not take place.
Bath and North East Somerset councillors initially rejected the plans to dispose of materials, including asbestos, in 2012.
Applicant Oaktree Environmental lodged an appeal which led to last year's planning inquiry.
Sally Monkhouse, from Stowey Sutton Action Group said: "It was with great relief we received confirmation from the planning inspectorate that the quarry owners are not taking further action to pursue their plans for asbestos disposal."
The application was to use the site to bury 150,000 tonnes of waste a year over a 10-year period.
A petition against the proposal received more than 4,000 signatures.
Nobody from Oaktree Environmental was available for comment.