HorseWorld faces 'tough decisions' over financial future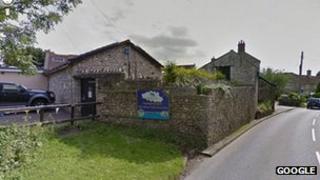 A horse welfare charity has said it faces "tough decisions" about redundancies and restructuring to become financially viable.
Bristol's HorseWorld, which cares for abandoned horses, is considering "urgent" cost-cutting, including closing part of its Whitchurch base.
The charity said it was consulting with its 62 staff members.
A spokesman said the problems were due to "plummeting voluntary donations" and rising numbers of horses in need.
In November, the charity's plans to build 125 homes and a new £7m visitor centre, funded by the house sales and an increase in tourist numbers, were rejected by the local authority.
Objectors opposed the plans as the site is on green belt land.
The board of trustees is now considering shutting the visitor centre completely, as well as reducing the size of its head office operation.
Managing director Mark Owen said it was "a very sad day".
"The current visitor centre is not only too small and outdated to accommodate enough visitors, but it is also separated from our much larger equine rescue and rehabilitation facilities," he said.
"Keeping both these separate operations running is simply not a financially sustainable long-term option for the charity.
"We have to take some tough decisions to bring our losses under control."