Bristol police admit they may need to use safety cameras to enforce 20mph zone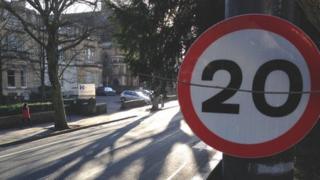 Police have admitted they may be forced to use safety camera vans to enforce new 20mph zones being introduced in parts of Bristol.
Pilot zones were set up in Bedminster and east Bristol three years ago but up to August it had not issued any 20mph speeding fines in those areas.
An Avon and Somerset Police spokesman said the force would use a "tiered approach" to enforcement.
He added road layouts could also be altered to slow down traffic.
'Support needed'
Community speedwatch schemes, in which members of the public use hand-held speed detectors, could also be used.
The new 20mph limit on many roads in the centre of Bristol and in Clifton, Cotham, Bishopston and Redland comes into force on 20 January.
An academic at the University of the West of England (UWE) said the 20mph zones needed "clear and unequivocal police support" for them to work.
The UWE researchers analysed an online YouGov survey which asked 500 adults their attitudes towards 20mph limits in the city.
Prof Alan Tapp warned of a "vicious circle" in which motorists who wanted to comply were put off by other drivers.