M4 and M5 managed motorway project near Bristol is completed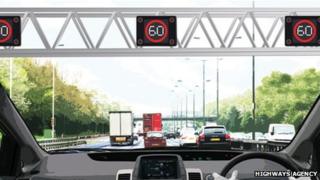 An £88m scheme to improve safety on the motorway network around Bristol - and to make journey times more consistent - is now fully operational.
During busy times seven miles of the hard shoulder on the M4 and M5 can be opened to motorists and variable speed limits activated.
When lit, the mandatory speed limits will be enforced by speed cameras.
The project, which started in January 2012, was completed two months ahead of schedule and within its budget.
It is centred around the Almondsbury Interchange and covers junctions 19 to 20 on the M4 and 15 to 17 on the M5.
A Highways Agency spokeswoman said more than 2,000 people had worked on the project, with nearly half from the Bristol area.
Thirty-three new gantries have been installed, with seven refurbished, laying more than 30 miles of fibre optic cables and constructing six emergency refuge areas.
The "smart motorway" is managed from the HA's regional traffic control centre at Avonmouth.
From there, traffic officers monitor the motorway occupancy and during busy times can set overhead message signs informing drivers they can use the hard shoulder - and at what speed.
The managed section has blanket CCTV coverage and sensors in the road and refuge area alert agency traffic officers to any potential problems.
The roads minister, Robert Goodwill, is due to visit the control centre later on Wednesday and will officially hand over the project.
A review on the effectiveness of Bristol's M4/5 managed motorway is due to report back next January.