Holmwood House nursing home failures uncovered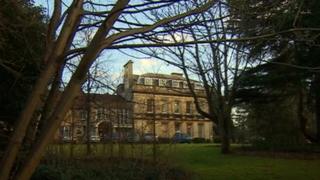 Repeated failures in care at a Bristol nursing home have been discovered by a BBC investigation.
There have been eight substantiated allegations of abuse or neglect at Holmwood House, Westbury-On-Trym, in the last two years.
Admissions to Holmwood have been temporarily suspended twice since June 2012 and, under a voluntary arrangement, no-one with nursing needs is currently being admitted.
The home's owner Ghassan Al-Jibouri said he had "nothing to hide" and his first concern was the health and welfare of residents.
The safeguarding incidents were uncovered by the BBC through a Freedom of Information request.
They include a woman being dropped from a hoist, mistakes with medication, neglect through short-staffing, and poor manual handling.
'Enforcement action'
An incident last October involving alleged physical abuse of a resident through rough handling is currently under investigation by the city council.
Holmwood has also received two highly critical reports from government inspectors, the Care Quality Commission, in 2012 and 2013.
After an inspection in July 2013, it was found the home was not meeting the required standard in seven out of eight categories, and enforcement action was taken.
It has since improved on the most serious failing.
Bristol City Council funds just under two thirds of the 29 residents at Holmwood, at an average cost of £606 per week per placement.
But Holmwood is currently not admitting patients with nursing needs under what is described as a "voluntary" arrangement.
It follows a risk assessment by the council and a suspension of all admissions from June until August last year.
A similar suspension was in place during June and July 2012.
Enema 'unnecessary'
The council said it "takes very seriously all allegations and concerns of abuse wherever they occur", but that it "has no power to close a home".
It also said the main issue was "whilst care improvements have been made… improvements have not always been sustained".
It is currently assembling a team to ensure Holmwood improves in the long term.
Annette Whiting, the daughter of Kathleen Cole who moved to Holmwood in 2008, said she believed the care she received was "disgusting".
Among her concerns are that her mother was given an enema which she believes was unnecessary and left her mother distressed.
The nurse, Cisily Joseph, was found guilty of assault - a verdict later overturned on appeal.
She told the BBC the enema was needed and prescribed, and that she only gave good care. She resigned from Holmwood after being suspended.
But a council investigation upheld an allegation of abuse and Ms Joseph remains under investigation by the Nursing and Midwifery Council (NMC).
An interim conditions of practice order against her was lifted in December 2013.
In a separate incident, 80 unused supplement drinks were found in Mrs Cole's room in May 2013, and a council investigation found she had not received some which had been recorded as being given.
'Transparent'
Mrs Whiting has also raised concerns about the role of a consultant at the home, Isla Meek.
Ms Meek was struck off by the NMC in 2012 and is no longer allowed to work as a nurse.
Mrs Whiting moved her mother out of Holmwood in July 2013. She died 12 days later.
Home owner Mr Al-Jibhouri said in a statement: "The death of a parent is always a tragedy."
He added it would be "inappropriate to comment about specific aspects of care" and that he is "transparent", takes safeguarding seriously and works closely with outside professionals to quickly address problems and complaints.
Mr Al-Jibhouri also said "other families do not recognise Mrs Whiting's description of Holmwood House", that Mrs Cole was safe and appropriately cared for, and that Mrs Meek "is not a nurse, and does not do any work at Holmwood House that can only be carried out by a nurse".
She was a "critical friend" to the home, he said, and much valued for her experience and expertise.