Bristol mayor accused of setting up 'war chest' of cash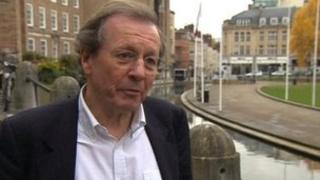 Bristol's Liberal Democrats have accused the city's mayor of setting up a "war chest" of reserve money saved via cuts to frontline services.
Independent George Ferguson says the council's reserves are low and need building up.
Lib Dem leader Tim Kent claimed the mayor is cutting vital services to "squirrel money away" into a "war chest" for projects such as an arena.
Mr Ferguson described the accusation as "ridiculous".
He said funding for the proposed £90m Bristol Arena project will not come from the authority's capital programme.
"It is totally separate and the arena is an incredibly good deal, costing Bristol very little for a £90m project," he added.
Mr Ferguson said the council's reserve funds currently stand at 1.5% compared to other local authorities which have reserves of up to 5%.