Bristol hospitals drop-off area closed for building work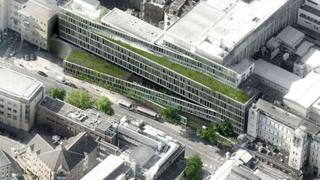 The drop-off area for patients visiting Bristol Royal Hospital for Children and the Bristol Royal Infirmary (BRI) will be closed to most drivers for the next five weeks.
Further building work means a barrier will be in place until 7 February to stop drivers entering the area.
The changes are caused by the ongoing work to redevelop BRI and build an extension to the children's hospital.
The barrier will be in place from 07:30 until 18:30, Monday to Friday.
Drivers will only be allowed through in emergencies or to drop off children with mobility difficulties.
Deborah Lee, deputy chief executive of the University Hospitals Bristol NHS Foundation Trust, said: "We realise that some patients and visitors will find these changes inconvenient and I'm sorry for that, but sadly these disruptions are unavoidable if we are to achieve our vision for our hospitals."
Drivers dropping off adults with mobility difficulties can use the council-controlled drop-off area in front of BRI.
Those who park in the drop-off area or leave their car unattended will risk a fine.
Work on the new facade is due to be completed by spring 2015.