Bristol Plimsoll swing bridge to remain closed for repairs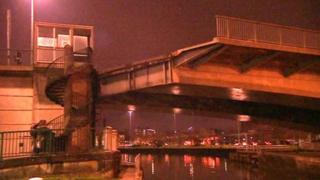 A swing bridge in Bristol which jammed two weeks ago will stay closed until replacement parts are manufactured, the city's council has said.
The Plimsoll Bridge over the Cumberland Basin malfunctioned after opening on 18 December and could not be shut, which led to traffic chaos.
It was cranked back into place by hand but has since been stuck closed.
The bridge is normally opened and closed several times a day to allow high-masted vessels through.
A spokesman for Bristol City Council, which maintains the bridge, said boat owners were being kept updated so they could make necessary arrangements until the bridge was operational again.
He said checks on the bridge had "revealed some minor components in the operating gear need to be replaced".
"These components are currently being manufactured and, once delivered, will be installed and tested as quickly as possible.
"In the meantime, Plimsoll Bridge will stay in the closed position, so there is no interruption to traffic."
The council could not confirm the cost of the repairs, which Bristol mayor George Ferguson previously said "could cost millions".
The bridge was constructed in 1965 at a cost of just under £3.5m.