Great Western Air Ambulance chief 'confident' of new helicopter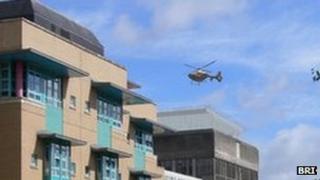 The chief executive of the Great Western Air Ambulance says he is "100% confident" the charity will be able to fund its new helicopter.
The organisation's current model will not be able to land at a newly-built helipad at Bristol's Royal Infirmary, due to open soon.
It has raised three-quarters of the cash required to get a newer model.
John Christensen said the new helicopter would also offer many other advantages to critically-ill patients.
He said being able to load patients via the side door would dramatically reduce the time before take-off.
'Best chance'
"At present we have to load them at the back of the helicopter which is a tight fit.
"So if the patient is connected to a monitor or drip these either have to be removed or placed on or beside them.
"This process can take up to 20 minutes and sometimes this means the quickest way will be by road.
"We'll now be able to do this in minutes so we get more patients to accident and emergency as soon as possible giving them the best chance of a full recovery."
The Eurocopter EC135 - which is coming from the Midlands Air Ambulance charity - will need fitting-out to house its life-saving equipment and supplies.
The charity hopes it will be in service "by June or July" but would "jump at the chance" of getting it any earlier.
It has a bigger cabin and can take an extra passenger.
"This means if we've got an injured child who is very distressed then he or she can travel to the hospital with their parent or a relative at their side," Mr Christensen said.
"The extra seat also means we can train paramedics on the helicopter so rather than them arriving on a land ambulance later they can be learning in situ which will be much better."
The new helicopter will be able to use the Bristol Royal Infirmary's new £500,000 helipad.
Aviation regulations forbid the use of the existing single-engine Bolkow from from landing on elevated helipads.
The charity will also see its running costs increase from £44,000 to £84,000 because of the more modern aircraft - in addition to fuel and other flying costs.
In November, the charity flew more than 50 critically ill patients to hospital.