Balloon maker Don Cameron on New Year Honours list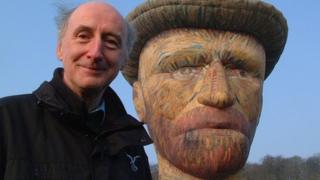 Hot-air balloon maker Don Cameron has been appointed MBE in the Queen's New Year Honours list.
The founder and managing director of Cameron Balloons has been honoured for services to design and manufacturing.
Founded in the basement of his Bristol home, the company created its first hot-air balloon in 1976 and is now the world's largest manufacturer.
Dr Cameron said the recognition had come as a "complete surprise" and was "very nice indeed".
In 2007, Dr Cameron was granted the freedom of Bristol for championing the city's annual balloon fiesta and making it the "undisputed, ballooning capital of the world".
"It's a niche business but the special shapes [of balloons] are great fun and it was great fun being the first in the field," he said.
"And the balloon fiesta started off in the bar - we decided to run a balloon fiesta, and the first only had a dozen balloons, and it's grown ever since."
'Addressed as esquire'
In other awards, Peter Hargreaves, co-founder of the investment company Hargreaves Lansdown, has been appointed CBE for services to business innovation, financial services and the city of Bristol.
Mr Hargreaves started the financial services firm, now in the FTSE 100, from a house in Bristol in 1981.
Also among those to be made MBE are Solomon Fubara, managing director of CEED Charity Ltd, who has been honoured for services to the black, minority and ethnic (BME) community in the South West.
Dr Fubara, who set up the African Caribbean Chamber of Commerce in 2006, has been instrumental in helping and supporting the BME community to start up new businesses.
He said: "When the letter came, a few weeks ago, I saw this stamp, 'Cabinet Office', and I was addressed as 'esquire'.
"I was saying to myself since I came to this country, this is the first time I've received a letter addressing me as an esquire.
"So I opened the letter and I couldn't believe it... I was so happy it's worth more than a million to me."