'More older women use Bristol night shelter'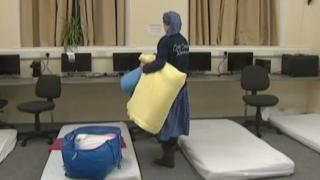 More elderly women are seeking shelter at a homeless charity in Bristol, its bosses have said.
Spring of Hope offers homeless women mattresses in one large dormitory four nights a week at its main office base in Easton.
Val Thompson, from the charity, said: "Our doors are open to anyone as young as 18 but we've been having women as old as 73 who are sleeping rough.
"It used to be [women aged] up to about 40 - but it's 50, 60 and now 70."
'Need more beds'
She said the increase in older women was "partly to do with benefit changes and also to relationship breakdown".
The charity is hoping to raise £15,000 towards a new building, which it plans to open in January.
Crisis Centres Ministries, which runs Spring of Hope, said the number of people sleeping rough in Bristol every night has risen from 45 to 70 over the past 12 months.
Nick Hooper, from Bristol City Council, said: "I think we do maybe need more accommodation and not just for women.
"The population of men who are homeless is also increasing and it has increased particularly over the last 12 months."