Christopher Jefferies: Drama to show 'destructive' UK press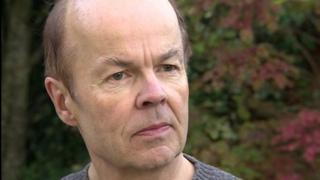 The man wrongly arrested for the murder of Jo Yeates hopes an upcoming drama about him will show the "destructive" nature of some of the UK press.
Christopher Jefferies was arrested after the 25-year-old was found dead on Christmas Day 2010. He was eliminated from the inquiry several months later.
Speaking on the third anniversary of the inquiry, he said the Yeates family would be in his thoughts.
The Peter Morgan-scripted drama was being filmed in Bristol last month.
Mr Jefferies, who let a flat in Clifton to Miss Yeates and her boyfriend, was questioned by detectives for two days before being released. Dutch national Vincent Tabak was later convicted of her murder.
His detention sparked massive press interest and he later successfully sued a number of newspapers for libel and, in 2011, gave evidence before the Leveson inquiry into press conduct.
In 2013, Mr Jefferies received an apology from the police over distress he suffered during the murder investigation, and the film about his life is currently being made.
In an interview with BBC Radio Bristol, Mr Jefferies said he had "to a degree" been trying to lead a quiet life, despite his story being dramatised by ITV.
"When Peter Morgan first got in touch with me he made it entirely clear that if I would be very uncomfortable then he wouldn't go ahead, he wouldn't make the film," he said.
"From what he said it was clear to me the interest he had in the story was in no way sensational, it was entirely sincere in what he wanted to do.
"I suppose one of the things I hope will emerge from the film is one of the things I think emerged from the Leveson inquiry - to make people realise the kind of press, at least certain sections of it, that we have in this country and how destructive they are.
"It happens to be about me, but it's about the damage that can be done to somebody by certain elements of the media who are not of the least bit concerned with the people whose reputations they trash."
Mr Jefferies said he felt "extremely fortunate" to get redress through the courts and believes his reputation has been "repaired".
In his report into press standards, Lord Leveson suggested continued self-regulation by the newspaper industry, but said a new standards body was needed and should be backed by legislation.
In a move not suggested by the report, politicians from the three main Westminster parties agreed on a royal charter to create a new watchdog with the power to impose fines and demand upfront apologies from UK publishers.
Newspapers said some of the recommendations were unworkable and gave politicians an "unacceptable degree of interference".
'Irreplaceable loss'
Mr Jefferies is now back living in the building where Miss Yeates was murdered by Tabak, her neighbour.
"There was no good reason why I should be driven out of where I had lived for a reasonable amount of time simply because of other people's actions," he said.
Mr Jefferies said he did not want to compare his experience to what Miss Yeates' family and friends had been through.
"It is obviously easier for me to move on than it is for other people to move on, for Greg Reardon [Miss Yeates' boyfriend] to move on," he added.
"I mean, there's a loss there that is irreplaceable and Christmas is very painfully going to remind them of that.
"I'm obviously going to be remembering that, but it's not really comparable in my case to what they're inevitable going to be feeling."