Bristol's parking fine cash more than triples over five years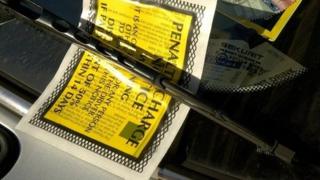 Income raised from parking fines in Bristol has more than tripled over the past five years.
Figures released by the council under the Freedom of Information Act show in the financial year 2012/13 it collected more than £2.8m in parking fines.
Earlier this year, the government warned councils should not use parking to generate cash.
But Bristol City Council said the council "had got a lot more efficient" at finding illegally parked vehicles.
A spokesman said by law all the cash raised had to go back into transport-related items such as filling pot holes, park-and-ride services and subsidising some bus routes.
'Very effective'
But motoring organisation the RAC said many of its members in Bristol still perceived parking fines as an extra way of making money.
"Things are changing so quickly and the council is trying a number of novel initiatives such as the residents' parking without really testing it properly," an RAC spokesman said.
"Many find the regulations ambiguous and you really have to check [the restrictions] for each street now and many end up falling foul of the law."
Bristol City Council said the rules were there for a reason.
A council spokesman said in cases where a vehicle was parked in a bus lane "most people would think it is reasonable they should pay for the consequences of holding everybody else up".
He added the authority was now relying more on technology to spot illegally parked vehicles.
"We have the [CCTV] cameras now and the car cameras and, although people think they are unfair on motorists, they are very effective," he added.
In the same time period, the number of civil enforcement officers increased by 13 to 76.