Stuck Bristol swing bridge 'could cost millions to fix'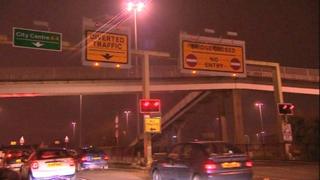 Bristol's mayor has admitted fixing the mechanism which opens and shuts a swing bridge on one of the city's main commuter routes "could cost millions".
The Plimsoll Bridge, over the Cumberland Basin, was opened on Tuesday afternoon to allow a yacht through but then could not be shut.
It was cranked back into place by hand but now remains stuck closed.
George Ferguson said he did not know the extent of the damage or how long it would take to fix.
'Engineers praised'
The failure caused traffic chaos for people returning home with some drivers reporting short journeys taking up to three-and-a-half hours.
Although the bridge has jammed some four times before, Tuesday's outage is believed to have been the longest.
Mr Ferguson praised engineers who worked overnight to get the bridge open for in time for Wednesday morning's rush hour.
"If we have to replace the whole motor then we are going into millions - it's not a small job - it's more than just a fuse," he said.
The bridge, which is maintained by the city council, is normally opened and closed several times a day to let pleasure craft and other vessels with high masts through.
It was constructed in 1965 at a cost of just under £3.5m.