Keynsham land sold for housing in £12.4m council deal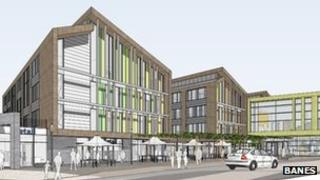 A council working to rejuvenate Keynsham in Somerset has agreed a £12.4m sell-off of land for housing.
Terms of the conditional sale of 16 acres of land, off Charlton Road, have been agreed between Bath and North East Somerset Council and Barrett Homes.
The authority said the land would be used for 250 new homes, but the deal was subject to planning permission.
A £34m redevelopment of the town centre is expected to be complete by autumn next year.
Liberal Democrat councillor David Bellotti, cabinet member for community resources, said: "New homes on this site are part of Bath and North East Somerset Council's plan to rejuvenate the town.
"The new homes will also bring a noticeably improved playground facility and better pathways and facilities for users of Abbots Wood."
Barratt Homes is expected to submit a planning application early next year.