Victim Support celebrates 40 years after its Bristol launch in 1974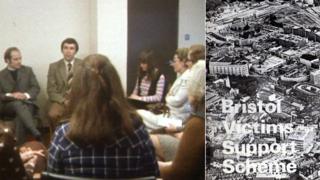 Forty years ago in Bristol a group of people decided something needed to be done to help victims of crime. Plenty of support was on hand for offenders but very little was on offer to their victims.
The idea came from the late Chris Holtom, a social work lecturer at the University of Bristol, and Nigel Whiskin, from crime reduction charity Nacro.
The two men created a team including police, lawyers, probation workers and psychologists. The project lead to the launch of the Bristol Victim Support Scheme (BVSS) on 1 January 1974.
The scheme was soon copied by others and resulted in the national charity now known as Victim Support.
'Bunch of do-gooders'
BVSS administrator Judith Carpenter, 69, said there was "a bit of resistance" initially from the police, who had "real problems with confidentiality and giving details to a bunch of do-gooders."
But the group did not give up. They persuaded Nacro to lend them some of the money in the lead up - a loan which has never been repaid.
A pilot scheme was eventually accepted by the police who agreed to pass over victims' details from south Bristol to the BVSS volunteers.
Mrs Carpenter said BVSS could not afford an office so she made her first phone call to the police for her first victim referral from her home.
She said: "It was ever so exciting making that first call from my living room.
"Victims' details were kept on small index cards in a locked filing cabinet in my house."
Fourteen "carefully selected volunteers" were recruited and trained in legal matters, the benefits system and mental health. They contacted over 500 people in the first three months.
'Handing over details'
Mrs Carpenter said: "Until then victims had always been seen as adjuncts to crime - victims don't get the headlines.
"The needs of victims and the psychological problems which can arise with some victims were never really taken into account."
Mr Whiskin, 76, said the brief to volunteers was very simple - "help the victims in exactly the same way you would want to be treated if your house was burgled or car stolen".
When asked why there was a need for a victim support service, he said: "It was an obvious yawning gap. The criminal justice system is all about the Crown versus the offender. Where's the victim?
"Victim Support just took off - it was an idea that hit its time."
Some victims contacted by the original pilot volunteers were filmed by a BBC community programme in 1975.
One elderly burglary victim told the programme her volunteer had been "helpful and a comfort" and had "restored my confidence".
Retired police inspector Ray Stone, 81, was part of the original pilot group. He said he had been "allocated to the social work field" due to his police federation role.
He said he felt "exasperated" when he started working with those in offender rehabilitation as it was a "culture shock for a copper."
Mr Stone said he asked what was being done for the victims of crime.
Mr Holtom and Mr Whiskin told him they had tried schemes but had needed information about the victims from the police who had been reluctant to give it.
Mr Stone said in his job he was handing over crime victims' details everyday to journalists.
He said he would talk to his superiors because if newspapers could print the details, he did not see why the same information should be withheld from BVSS volunteers.
"The group converted me, and they also came round to my point of view. So we came up with a plan which I could sell to the chief constable," he said.
Mr Stone said the project was "quite a struggle at first but very rewarding".
Victim Support's current divisional manager Rhiannon Evans said: "Victim Support in Bristol is going from strength to strength and we're meeting different needs for different victims. But volunteering is still at the heart of what we do."
Mr Whiskin said it had all "come full circle". He now works with Restorative Solutions which has set up a pre-sentence restorative justice project in partnership with Victim Support at Bristol Crown Court.
He said: "We originally tried to put restorative justice into the project but the police wouldn't allow us to introduce victims to offenders - 40 years later it's government policy."
Victim Support said it had helped "well over 25 million people" nationally since it began in 1974.