Hengrove park safety report could end staff cut plan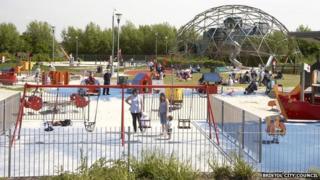 Safety experts have visited a large play park in Bristol to assess how many supervisors are needed to keep it open.
Residents are angry that proposals to cut the staffing of the Hengrove play area could result in its closure.
Mayor George Ferguson has said he will "do whatever it takes" to keep it open, but cannot justify four playground staff members to supervise it.
Recommendations from the Royal Society for the Prevention of Accidents (RoSPA) have been sent to Bristol City Council.
The council announced the proposal to end the park's supervision and save £120,000 next year as part of its budget consultation.
'May be changes'
The play area - which the council says is the biggest free play park in the south of England - cost £1.4m to build and opened 10 years ago.
As well as staffing costs, Mr Ferguson said the council paid almost £50,000 a year to lease the site, "which is a pretty expensive way of providing a playground".
He said: "There may be some changes - this is life - but I cannot justify putting three or four permanent staff on a fixed equipment playground, when there isn't any on any other site in the city, so it is right to review it."
RoSPA confirmed it had been instructed by the authority to carry out a risk assessment on the "implications of reducing staff at the park on users and lone workers".
Its recommendations have been sent to the council.
More than 2,000 people have signed an online petition against the proposal, with some 11,000 people supporting the campaign on Facebook.
Campaigner councillor Tim Kent said he had never seen such an "overwhelming" spontaneous response.