Bristol ship offers mast climb for Victorian sailor's eye view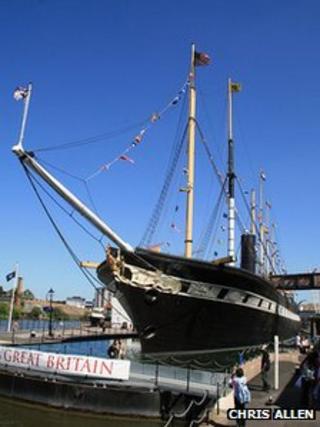 Visitors to ss Great Britain are to be invited to scale the rigging and walk along the yardarm to get a Victorian sailor's eye view of Bristol.
The experience 98ft (30m) up the mainmast of Brunel's famous iron ship has been designed to represent what crew members had to endure.
Participants will ascend the rigging to a viewing platform before traversing out along the main yard over the deck.
The ship was the world's first iron-hulled screw-driven ocean liner.
It was propelled by a combination of steam and sail power and launched from Bristol in 1843.
It criss-crossed the Atlantic, made 32 runs to Australia with emigrants, served as a troop ship in the Crimean war and the Indian Mutiny, and later became a cargo ship.
Bare feet
The ship was eventually scuttled in the Falkland Islands in 1937 after 50 years as a storage hulk.
It was salvaged and returned to Bristol in 1970.
"We aim to take visitors back in time and show them what the conditions on board would have been like for passengers and crew alike," said Rhian Tritton, director of Conservation for the ss Great Britain Trust.
"It would have been opulence and luxury for the first class passengers, but scary and pretty dangerous for the hard working crew."
Crew re-enactment volunteers will bring the experience of crew and passengers to life for people who would prefer to stay on the weather deck.
"Although Go Aloft is an accurate representation of what they would have had to do, we're not making visitors climb the rigging in bare feet - they will be wearing a harness and sensible shoes at all times," said Ms Tritton.
Go Aloft is due to open to the public in April next year.