Man jailed for raping Bristol prostitute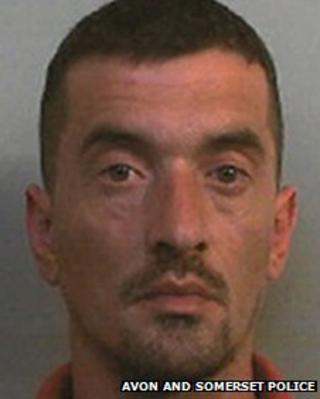 A man who raped a prostitute when she refused to carry out further demands after having sex with him has been jailed for three years and four months.
Daniel-Nicolae Ilie, 35, of Gilbert Road, Redfield, paid £20 for sex after approaching the woman in Bristol.
When she refused his demands for further sexual acts, he attacked her, Bristol Crown Court was told.
Sentencing Ilie, Judge Horton said that "like any woman in this country", his victim was "entitled to her consent".
The court heard that the Romanian national had offered extra money and repeated his demands before grabbing hold of his victim and raping her in the early hours of 9 September.
Ilie was arrested three days after the attack after being identified on CCTV images from a nearby shop.
'No distinction'
At interview, he admitted he had raped the woman.
"I paid her. I am not saying that because she is a prostitute, she is the lowest of the low, but I paid for her," he said.
"Some people work all day for £20, she was working 10 minutes.
"She is a prostitute, so she should do her business properly."
Ilie also told officers he had regularly used prostitutes in other areas of Europe.
Addressing the 35-year-old in court, Judge Horton said: "I sentence you for rape upon a sexual worker in exactly the same circumstances as the rape of any other woman with whom you had been having consensual sex.
"The court has no distinction. A sex worker, like any other woman in this country, is entitled to her consent."
He added that Ilie's confession "at the first opportunity [was] extremely rare in cases of this kind".
Ilie was placed on the sex offenders register indefinitely. He was also banned from red light areas in Bristol, and from approaching women on the street, for five years.