Bristol mayor dumps rubbish to highlight £5m city litter problem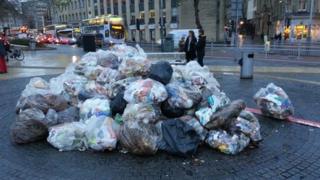 The mayor of Bristol has dumped a pile of rubbish in the city centre to highlight the annual £5m clean-up cost.
George Ferguson says the cost of collecting discarded waste could be better spent on more vital public services.
To illustrate the issue, rubbish collected in one weekend has been put on display in St Augustine's Parade.
Mr Ferguson said the aim is to show people "the sheer scale of the problem of keeping Bristol litter-free".
Posters have been placed on bins in the city centre, and messages posted on Twitter and Facebook to promote the campaign.
Bristol City Council said during the past year, 5,962 tonnes (497 tonnes per month) of waste was collected from the city centre.