Shrien Dewani: Judgement reserved in bid to block extradition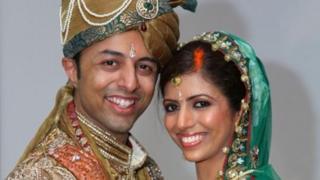 Judges have reserved judgement on the latest bid to block the extradition of honeymoon murder suspect Shrien Dewani until he is fit to stand trial.
The 33-year-old Bristol businessman is fighting his removal to South Africa to face trial over his wife's death.
Mr Dewani is accused of plotting to kill 28-year-old Anni Dewani, who was shot in Cape Town in November 2010.
At a High Court hearing earlier, judges said they would give their ruling in the new year.
Mr Dewani's extradition was first ordered by a senior district judge in 2011.
That was challenged in the High Court in 2012, where it was sent back to the district judge.
'Unfit to plead'
In July, Mr Dewani's extradition was ordered once again.
But the Lord Chief Justice Lord Thomas ruled in October the original appeal would be reopened to consider two questions.
The first relates to Mr Dewani's status as ''an accused person''.
The second concerns whether it would be ''unjust and oppressive'' to extradite Mr Dewani ''regardless of the prognosis'' of his mental condition.
At Friday's hearing, Lord Thomas said that if Mr Dewani's legal team won on the first issue, then he would have to be discharged but could be re-arrested if he stayed in the UK "when he became fit".
He also said, in discussion with Clare Montgomery QC for Mr Dewani, that if successful on the second issue, there would be "another adjournment" and Mr Dewani would remain "where he is until better and then goes".
His lawyers say he is unfit to plead under English law and his "prognosis is not certain".
Mr Dewani is suffering from health problems, including depression and post-traumatic stress disorder and is compulsorily detained in hospital under the Mental Health Act 1983.
'Appropriate protections'
He is suspected of ordering the killing of his new wife as they drove through the Gugulethu township in a taxi.
The pair were kidnapped at gunpoint.
Mr Dewani was released unharmed, but the next day the body of Mrs Dewani was found on the back seat of the car in Lingelethu West, with injuries to her head and chest.
Last year, South African Xolile Mngeni was convicted of premeditated murder and jailed for life.
Prosecutors allege he was hired by Mr Dewani to kill his wife, something Mr Dewani has always denied.
The couple's taxi driver Zola Tongo was jailed for 18 years after he admitted his part in the killing and another accomplice, Mziwamadoda Qwabe, also pleaded guilty to murder and was sentenced to 25 years in prison.