Dean Norris jailed for attempted rape in Shirehampton wood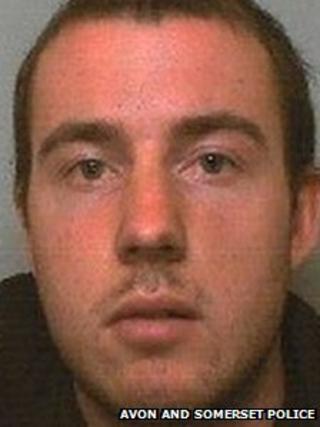 A man who admitted attempting to rape a woman as she walked her dog through woodland in Bristol has been jailed for five years.
Dean Norris, 25, from St George, attacked the 21-year-old in secluded woods in Shirehampton in September.
Her screams were heard by a couple. Witness Alex Reeves then chased Norris, who escaped by car, but Mr Reeves noted the number plate and alerted police.
Bristol Crown Court was told Norris was arrested the next day.
The court heard the attack happened at about 18:00 GMT on 18 September in woodland near Penpole Lane.
Norris was said to have walked across the woman's path a couple of times before pushing her to the ground and attacking her.
After hearing her cries, Mr Reeves chased Norris, who ran to his car which was parked some distance away.
Mr Reeves' partner stayed with the "terrified" victim.
The court was told Norris had written a letter to his victim and to the judge.
'Waste of a soul'
After sentencing, his victim said she had not yet read the letter but if Norris was writing to say sorry, she would ignore it.
"Unfortunately, I will not accept the apology, because if that was the case, he wouldn't have done it in the first place.
"What he has done to me has practically destroyed me.
"To be honest, he is just a waste of a soul."
The 21-year-old, who cannot be named for legal reasons, said she wanted others to follow her lead in reporting attacks and going to court.
"I want other people out there to know that if it has happened to you, then don't keep it to yourself - tell someone, tell the police, tell the rape counsellor.
"People think 'I haven't got enough evidence to prove this person has done it', but don't ever think that.
"The police have helped me so much throughout this case."
She added that the sentence given to Norris was "brilliant" and that she was "thankful" to the witnesses who helped her.
Det Con Paul Melton said: "I cannot praise enough the actions of Alex Reeves and his partner who came to the victim's aid.
"I have no doubt their actions prevented Norris from carrying out his full intentions and helped us to locate him as quickly as possible.
"Stranger incidents like this are thankfully rare, but when they do happen, they naturally cause concern and anxiety in the local community."
Norris will also serve an extended three-year licence after his prison sentence and has been placed on the sex offenders' register.